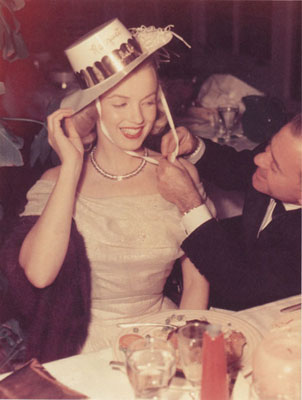 Still trying to decide where to go and what to do tonight for New Year's Eve? Here are some last minute suggestions to kick off 2012 with stress-free fun!
1. CASA NONNA (Washington, DC)
Casa Nonna invites you to celebrate the New Year at grandmother's house. Casa Nonna, which is Italian for grandmother's house, invites you to dine Italian style this New Years Eve. With traditional Roman and Tuscan fare, house-made pastas and wood-fired pizzas, Casa Nonna will offer special dinner presentations, complimentary Prosciutto de Parma tableside and a complimentary prosecco toasting at midnight. The evening will feature two seatings, the first at 5:30pm and the second at 8:00pm. Casa Nonna is located at 1250 Connecticut Avenue NW in Washington, DC. For reservations, call (202) 629-2505.
2. RESTAURANT 3: "SAVE THE DRAMA FOR YOUR MAMA" PARTY
(Clarendon, Virginia)
It's a no-hassle, drama free New Yea's Eve at Clarendon's Restaurant 3. Restaurant 3's Save the Drama for Your Mama New Years Eve Party has thrown out the tickets and the cover and will be offering items from the regular menu, including Chef Brian Robinson'ssucculent Pork Belly Hoecakes and famed Scallops and Grits. There will be complimentary party favors and a champagne toast at midnight. Chef Robison makes a special appearance as DJ Pork & Beans, who will be DJing the festivities beginning at 9:30 pm in the bar. For reservations, visit http://www.restaurantthree.com/reservations.php. Restaurant 3 is located at 2950 Clarendon Blvd. in Arlington, VA, across the street from the Clarendon Metro Station. For more information or reservations please call 703-524-4440
3. CORK WINE BAR: 5TH ANNUAL NEW YEAR'S EVE BASH (Washington, DC)
Cork Wine Bar invites wine & and Champagne lovers to ring in the New Year at with good friends and great wine at their 5th Annual New Year's Eve Bash. The price of admission is simple; just show up with a bottle of (good) bubbly! Cork will supply fare for attendees. The New Year's Eve Bash will begin at 11:00pm. The Wine Bar will be open for dinner prior to the celebrations. For reservations, call (202)309-2549 or email Diane@CorkDC.com. Cork Wine Bar is located at 1720 14th Street, NW in Washington, DC.
4. NAGE RESTAURANT (Washington, DC)
Start the New Year off with a memorable culinary experience of creative fare at Nage Restaurant. Nage will be offering three-course and five-course menus to choose from. The evening includes a complimentary champagne toast at midnight and featuring delectable options such as Chesapeake "Stingray" Oyster Slurpees with a champagne mignonette and entrée items like Pan-Seared Diver Scallops with New Year's favorite Hoppin' Johns, bacon, Brussels sprouts, sweet potato puree and a bourbon-mustard seed glaze. New Year's Eve reservations may be made by calling the restaurant directly at (202) 448-8005 or online at www.opentable.com. Nage Restaurant is located at 1600 Rhode Island Avenue, NW in Washington, DC.
5. WHITLOW'S ON WILSON: APPETIZER BUFFET AND FLOWING CHAMPAGNE (Clarendon, Virginia)
Whitlow's on Wilson is throwing a New Years Eve Party of epic proportion and the ticket price has been set at a budget-friendly $25. With an appetizer buffet filled with scrumptious treats and a champagne toast at midnight, Whitlow's is where the party's at this New Years Eve. Also on the docket, live music from Back to Zero (www.back-to-zero.com). Whitlow's on Wilson is located at 2854 Wilson Boulevard, just two blocks from the Clarendon Metro. The evening is 21+ and doors open at 8pm. Call (703) 276-9693 for more information.
Ciao and Happy New Year!!!!